No.
Item
Unit
Specification
Input
1
Rating Input Voltage
V
100-260Vac 50/60Hz
2
Rating Input Current
A
0.5A
3
Max. Input Power
W
70W
Output
4
Output voltage
V
MAX.14.8V
5
Suit for Battery Capacity
12V /2.3-120Ah(lead acid battery),12V/2-20AH(lithium battery)
6
Battery Recovery voltage(stage1)
V
19.4±0.2V DC(lead acid battery),<14.7V(lithium battery)
Battery Recovery current
mA
<200mA
7
Charging Current(stage2)
A
3.85±0.1@12V
8
Charging Voltage(stage 3)
V
14.4±0.3V DC
9
Floating Voltage(stage4)
V
13.6±0.3V DC
10
Cut-off Current(stage 5)
A
0A
11
Max. Output Power
W
60W
12
LED Indicator Light
4 LED:Power on,Reverse, Battery OK,Charging
3LED:Model selected light
13
Output Protections
Over-temperature Protection, Over-voltage Protections Free Spark
Short-Circuit Protection,Reverse Polarity Protection
14
Efficiency
%
>80%
15
Output Connectors
Clamps&Eyelets
16
Size of charger
mm

150x68x47

mm

17
Size of box
mm
213x133x85mm
18
Package
18pcs/Carton
19
Dimension of carton
cm
46x42.7x27.5cm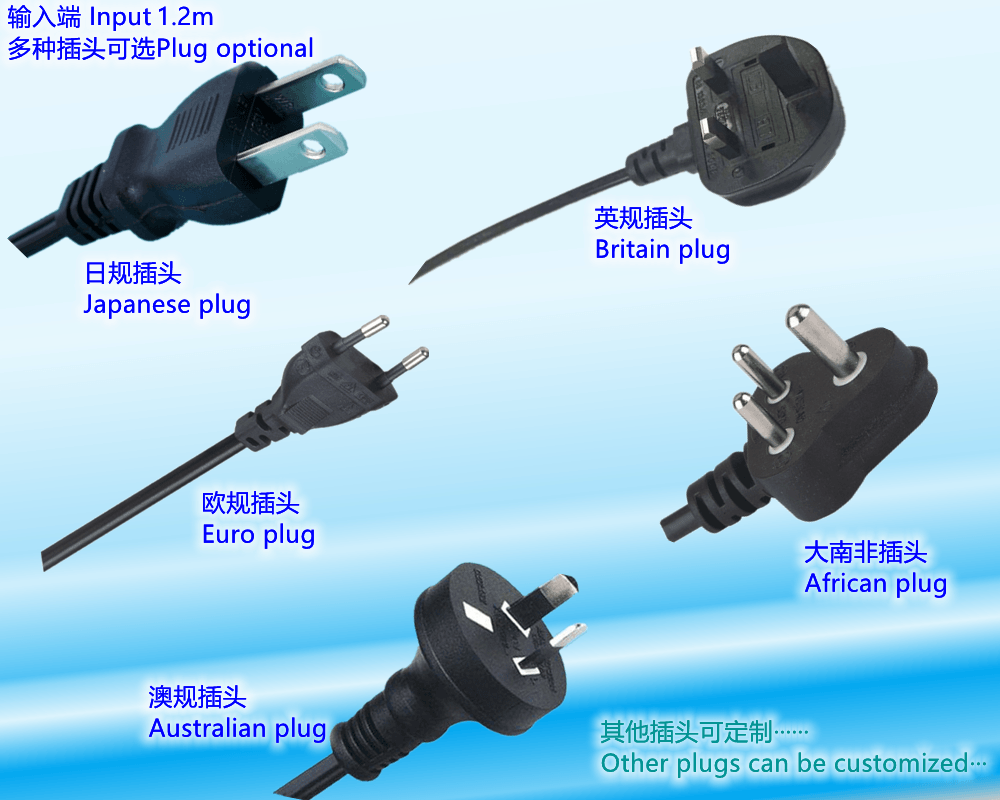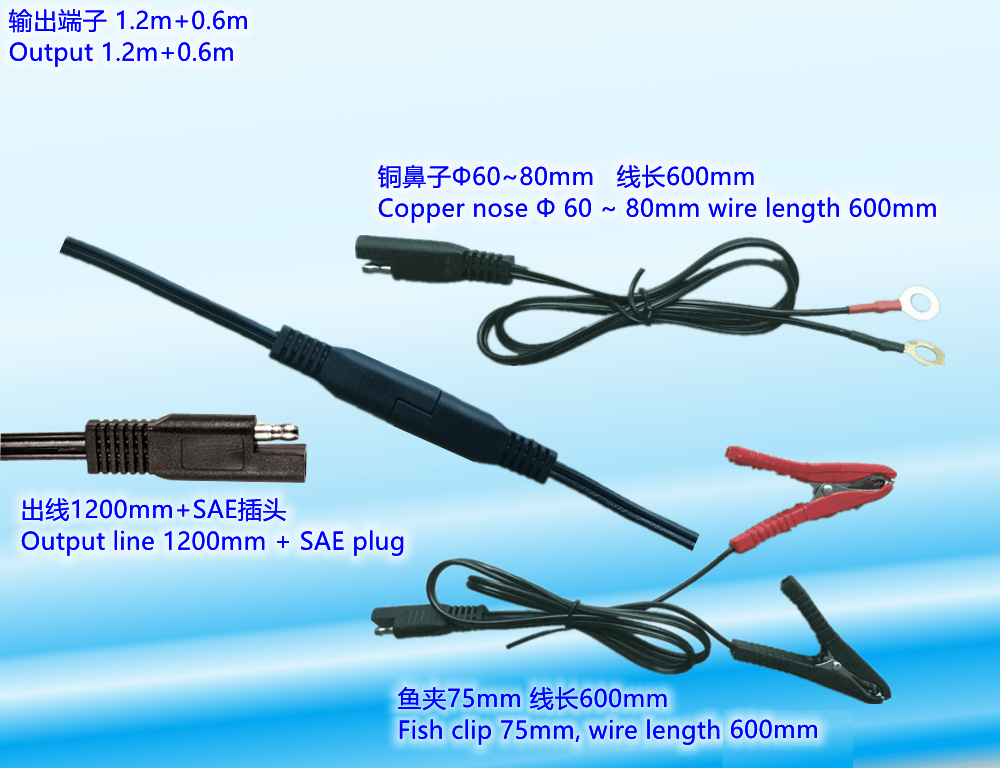 模式MODE

输入 Input

输出 Output

适用电池




Used for battery

90-260VAC 50/60Hz
Max. 0.5A

14.7V/2.0A

1-6Ah

14.7V/3.0A

2-10Ah

14.7V/4.0A

2-20Ah
LED

颜色

colour

技术参数




Technical Data

Power on

绿

green

电源连接正确指示灯

power on

Charger

黄

yellow

正在充电指示灯

battery is

charging

Reverse

红

red

极性接反指示灯

battery polarity reversed

Weak

红

red

坏电池指示灯

weak battery

OK

绿

green

电池充饱指示灯

charging is completed

Recovery

蓝

blue

修复电池指示灯

battery is being recovering
Instructions for use (steps):
1. Connect the charger input power supply
2. Battery connection
Connect the red fish clip or ring of the charger to the positive terminal of the battery marked with "+" or red, and connect the black fish clip or ring of the charger.
The ring is connected to the negative terminal of the battery marked with "-" or black.
If the red reverse indicator light "reverse" is on, replace the fish clip or ring connected to the battery.
3. Connect the power supply and the power indicator "power on" is on.
4. If the recover blue indicator is on, it indicates that the charger is repairing the battery. If the repair is successful, the yellow indicator "charging" will be on. If it is repaired for a long time, the recover blue indicator will flash. The battery cannot be repaired. Please replace the battery.
5. During the charging process of the charger, the charging indicator "charging" will be on. The charger will charge the battery with constant current first. When the battery voltage reaches a certain value, it will automatically enter the constant voltage charging. When the constant voltage charging current decreases to a certain value, the green indicator light "OK" will light up and automatically cut off the charging current.
6. When the battery is fully charged, the green indicator "OK" will light up. If the charger is always connected to the battery, once the battery voltage is low, the charger will automatically recharge the battery, and the orange charging indicator "orange" will light up and the green indicator "OK" will go out.
defects liability period:
The warranty period of the charger is 2 years from the retailer's sale, mainly for material defects, process and performance. If the charger fails due to man-made damage, unauthorized maintenance or attempt to repair, it will not be covered by our warranty. Your legal rights will not be affected in any way.
Warning! Please read before use·
Please charge in a dry and ventilated environment. The gas released by the battery is explosive.
When charging, make sure there is no spark around the charger.
When charging, do not put it in a wet place to avoid electric shock·
Ensure that the battery terminals are clean and tidy.
This charger is for indoor use only.
The charger is controlled by a microprocessor. It is suitable for start-up 12V lithium batteries.
Note: this charger is not suitable for nickel cadmium or nickel hydrogen alkaline batteries.